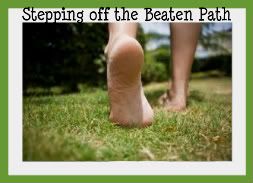 Photo courtesy of Google Image
I grew up in the public school system, from kindergarten all the way through my senior year. I took the bus to and from school everyday. I ate hot lunches every day. I played on the playground at recess everyday. I sat at a desk in a classroom everyday. I worked from a textbook/workbook everyday. I was also a pro at cramming information into my head long enough to get an A on the test.
When it came time to begin homeschooling my girls, the only model of education which I could reference was the very one I had experienced. I quickly discovered this format with it's drive, expectations, and loads of worksheets was not suitable for my daughter at all. The atmosphere in my home was one of daily tears and frustration. There began to be a huge paradigm shift in my thinking regarding education and my mission and goals for homeschooling. I took drastic measures to "Step Off The Beaten Path". It was then, that I began to see a spark of hope to homeschooling!
As I prepare for this series, I would love to hear your story! What educational model did you have growing up? What memories do you have of your childhood education? What are ways you have veered away from the familiar and embraced an education for your kids that is far different from the one you had?