"What's for dinner Wednesday"

This is the final post for this series! I hope you have enjoyed it and been inspired with your meal planning!
Asian Orange Chicken
This was a HUGE hit in our home! Something definitely out of the ordinary. I didn't read through all the instructions ahead of time and realized, a little too late, that I was suppose to marinate the chicken in the sauce for at least 2 hours...woops. That didn't happen since there wasn't enough time...but it turned out just fine with skipping that step! I will for sure be making this again in the future!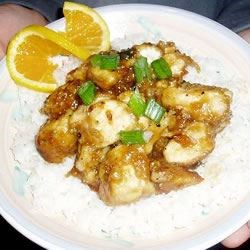 photo courtesy of allrecipes.com
Ingredients
Sauce:
1 1/2 cups water
2 tablespoons orange juice
1/4 cup

lemon

juice

1/3 cup rice vinegar
2 1/2 tablespoons soy sauce (I used gluten free soy sauce)
1 tablespoon grated orange zest
1 cup packed

brown

sugar

1/2 teaspoon minced fresh ginger root
1/2 teaspoon minced

garlic

2 tablespoons chopped green onion
1/4 teaspoon red pepper flakes
3 tablespoons cornstarch
2 tablespoons water
Chicken:
2 boneless, skinless chicken breasts, cut into 1/2 inch pieces
1 cup all-purpose flour (I used brown rice flour)
1/4 teaspoon salt
1/4 teaspoon pepper
3 tablespoons olive oil
Directions
Pour 1 1/2 cups water, orange juice, lemon juice, rice vinegar, and soy sauce into a saucepan and set over medium-high heat. Stir in the orange zest, brown sugar, ginger, garlic, chopped onion, and red pepper flakes. Bring to a boil. Remove from heat, and cool 10 to 15 minutes.

Place the chicken pieces into a resealable plastic bag. When contents of saucepan have cooled, pour 1 cup of sauce into bag. Reserve the remaining sauce. Seal the bag, and refrigerate at least 2 hours.

In another resealable plastic bag, mix the flour, salt, and pepper. Add the marinated chicken pieces, seal the bag, and shake to coat.

Heat the olive oil in a large skillet over medium heat. Place chicken into the skillet, and brown on both sides. Drain on a plate lined with paper towels, and cover with aluminum foil.

Wipe out the skillet, and add the sauce. Bring to a boil over medium-high heat. Mix together the cornstarch and 2 tablespoons water; stir into the sauce. Reduce heat to medium low, add the chicken pieces, and simmer, about 5 minutes, stirring occasionally.
In case you missed it:
"What's for dinner Wednesday" -
Week 3
"What's for dinner Wednesday" -
Week 4