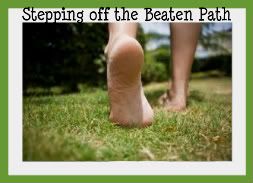 Photo courtesy of Google Image
For some time, I have been questioning our methods and looking for something different. My heart tells me we need to change, my head tells me otherwise. I never realized how indoctrinated I was regarding schooling until I began questioning our methods and found that I was the one holding back change. ~Robin, Homeschool mom
Whether you were raised in public school, private school, homeschooled, or a combination of things....you most likely have formed opinions, ideals, philosophies, definitions and perceptions of education, based on your exposure and experiences.
I spent K-12th grade receiving a public school education (that's 2,340 days to be exact but whose counting!). So naturally, I took those principals of education, and applied them to how I homeschooled. If I had to summarize my definition of education and how I attempted to homeschool the first year, it would be
"doing school".
My Kindergartner and I, would sit down at the table everyday, open up workbooks, and do page after page of worksheets. We stuck to a very tight schedule and nothing could be skipped.
That "Type A" in me just had to check everything off the list!
I felt this huge weight of responsibility on my shoulders and placed such high expectations on myself and my daughter.
Nothing about our days felt smooth and natural...it felt bumpy and forced.
It was in February of that first year, when I finally said, "No More!" No more, to days filled with tears and frustration for both of us. No more, to school being torturous. No more, to a rigid schedule. No more, to following a formula. No more, to heavy demands and high expectations.
I had no idea what homeschooling was "suppose" to look like, but what I was doing wasn't it.
I gathered up all the workbooks and I placed them in a plastic bin under my bed.
I didn't have a Plan B but Plan A wasn't an option any longer.
Thankfully I got inspired with an idea that would at least help get me through the remainder of the school year (see even school being September -June is programmed in this head of mine).
The inspiration came from a single book,
"How to Make an Apple Pie and see the world"
. I wrote my own 7 week curriculum from this one book, which did take some time and effort on my end, but was well worth it! Writing my own curriculum is not something I would want to do on a normal basis but desperate times call for desperate measures...and this mama was desperate. (I'm happy to email the PDF file to anyone interested!)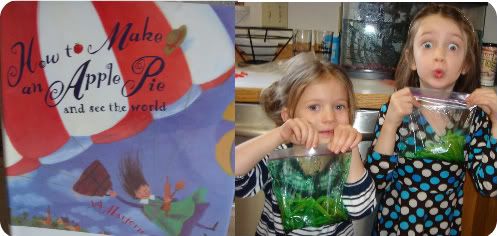 We started a notebook, using a 3 ring binder, to hold all of their work. We did fun, hands-on projects, read lots and lots of "living books", went on field trips, and did several science experiments. The girls were learning geography, science, Bible, math, reading, writing, and art all wrapped up in one! (If this educational approach interests you check out
Five in a Row
!)
This is when the spark for homeschooling got lit in me and in my girls!
This is when I, "
Stepped off the Beaten Path
." It could be compared to only knowing vanilla ice cream in a bowl your whole life and suddenly discovering a double scoop of mint chocolate chip in a waffle cone. I began to see a vast assortment of options available to me!!
If you have never done this, I encourage you to take a few moments and write out some of those key beliefs you have about education based on your upbringing/experiences.
More of my story coming next week:
Read Here
!
You can
Subscribe
and have new posts delivered right to your email or find me on
Facebook
! If you subscribe don't forget to go through all the steps, you'll get an email that you have to click on a link to verify!